Shock Roster
Shock troopers were an elite force created during the clone wars, and act as the military police/Security police for the republic. Some were trained for more specialized roles like peacekeeping and riot control, Commonly seen as security details for important figures such as naval, or senators. The shock troopers stationed on coruscant were known as the coruscant guard, they were an elite division of shock. On the burst link they act as the police, and arrest any lawbreaking person on the ship. They are equipped with specialized equipment to use, like:
Stuntick: Used for warning and stunning lawbreaking people
Arrest Baton: Used to jail lawbreaking people
Unarrest Baton: Only available to the higher ranks, it is used for releasing people from jail.
EMP Gun: Used to stun targets.
Battering ram: Used to breach doors by higher ranks.
Handcuffs: Used to restrain Individuals
CO:
Staff Sergeant
Saturn

XO
:
Temporary Shock Advisor: Drill Sergeant Noble (Golden)
Shock NCO's (Officers): (0/2)
Cadet= New member
SHOCK TROOPERS:

Corporal Vulture

Cadet Rikyo

Cadet Redhood
HOUND:
Shock Riot unit members:

Shock Riot Unit Leader:

What is the riot unit?

The shock riot unit are specialized shock members trained to deal with riots, and they use their shield to deal with riots, and to block off suspects from escaping while others arrest them, And also to protect VIPs. That's all they do.

Jedi General: Guardian Fee Thek

Jedi Commander: None

Shock ARC:
please give shock arc..
None
RECRUITMENT AND TRAINING RULES
Only Shock over SPC can do trainings.
Only Chosen Troopers may be able to recruit.
CONFIRMED RECRUITERS:
WALL OF HONOR:
Commander Thorn

* = ON PROBATION (being rude, inactivity, not following orders)

RULES:

Mass RDM
= demotion (More then 4 kills within 2 minutes for no reason)
Mass RDM (x3)
= kick
Minge (to a point a staff has to tell me)
= Warning/Demotion
Rudeness (x7)
= Warning
Not following orders from officer (x3)
= Warning
Not following orders from EM in character (x3)
= Warning
Refusing to listen to staff/admin
= Warning/demotion depending on how bad
Warning (X3) = demotion

Warning (X6) = Kick

Combat Arrest/Random Arrest (x1)=Warning, Then demotion

Combat Cuffing/random cuff (x1)=Warning, then demotion

Shock are to follow orders from any naval officer no matter what, unless it breaks a rule.
CONTACT INFORMATION- For steam account leave comment before you add, and for discord dm me first.
https://steamcommunity.com/id/howdidyougetinsidemyhouse/
Legionary#9112
Discord:
https://discord.gg/RGY8jun
CG Dogs Roster:
Dogs are used for support and also morale support. And yes, you can pet them.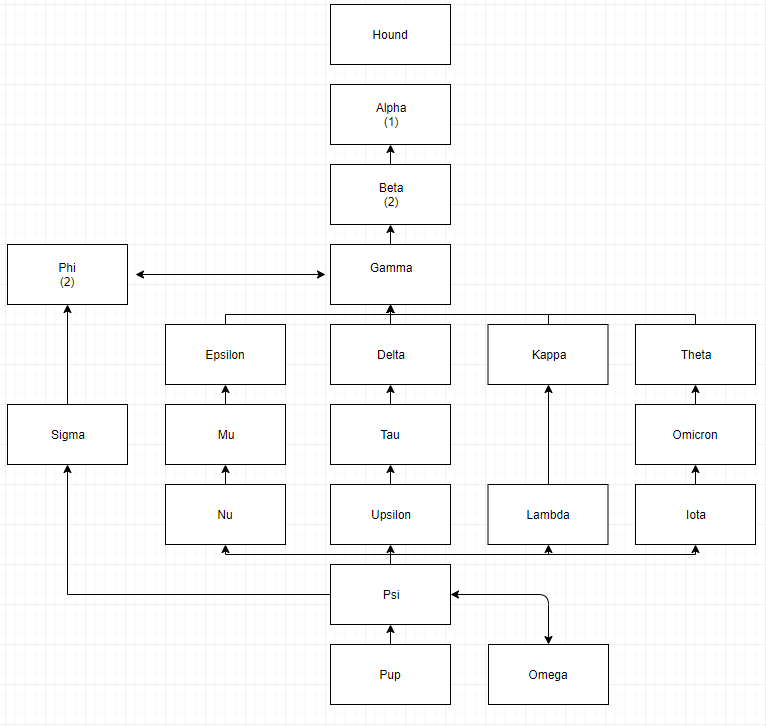 Information:

Kappa / Lambda are hunters trained to stalk and take down suspects, Lethally if neccesary.

These dogs are able to sniff for scents and drugs.

Phi / Sigma (Special role goes along side other roles) They are support to pups and Psi's able to help answer questions and provide input

Epsilon / Mu / Nu are guardians trained to stick near an officers side or a HVT and provide protection until death, They can sniff for scents, but only for the person they are guarding.

Delta / Tau / Upsilon are scouts and messengers to provide information around a battlefield These dogs are trained to run much faster then normal.

Theta / Omicron / Iota are dogs who are to give support and aid to those suffering from problems or medical issues (Rp support role)
Omega's are those who have been disgraced. They have either majorly F'd up or failed in their mission. They can work their way out of the role but it is not an easy process (Demotion job so people can earn their role back, this only exists because it wouldn't make sense for a person to be demoted back to a pup when they are already an adult.)

Pup / Psi are introduction roles to hounds where you learn about the battalion and make the choice on what path to take.

Alpha is the top dog who has shown great leadership skills, he / she leads the dogs when Hound is not around and they need to co-ordinate

Beta are the secondary leaders, when the Alpha is not around they lead and offer support to those beneath

Gamma's are the elders of dogs. They serve as the wise-men who have been around for a long time and provide aid to all those beneath (used with permission of lighthaven, thanks man)

Dogs

Gamma Shiro

Pup Danny

Pup Cheerios

Psi Chronos

Pup Eris

Pup Nut

Pup Hess

Pup Rudy

Pup ChickFilA

Pup Popeyes

Psi Luck

Pup Golden Corral

Pup Panda Express

"Pup" Raccoon

Pup Nemesis

Pup Rex

Pup Soma

Alpha:

Beta:

Hound:
Last edited: